New years is a time for resolutions and planning. Many companies take the time to plan their projects and budgets for the upcoming year. Below is a video and step by step instructions that show you how to create 2 boards that can manage your annual plan and related tasks in monday.com.
Here are step by step instructions for creating an annual plan board and a task board.
Step 1 – Create your annual plan board
Step 2 – Create your task board
Step 3 – Add columns to the annual plan board. You can add whatever columns you think would be helpful, and below are the columns that I would recommend
Person column to track who is the team lead
Timeline column to track the timeline of each project
Numbers column for the budget for each project
Status column -to create a type of project
Connected board column – to connect to your task board
Mirror columns – to pull in the relevant information from the task board
Files column – to track all of your final files
Formula column – this can be used to calculate if you are on or off budget
Step 4 – Add columns to the task board. I would recommend the following
Person column – so you can assign a task to a person
Date column – to manage due dates
Status column – to keep track of the status of each task
Numbers column – keep track of your actual spend on each task
Connected board column – to link up to the main annual plan board (and then you can mirror any boards if you would like)
Step 5 – Create dashboards – dashboards can be created in the task board or in the annual plan board. Consider these as possible dashboards
Numbers widget to track budget, actual spend or calculate the difference
Chart widget to track budget by type
Timeline widget to see your projects over time
Gantt chart widget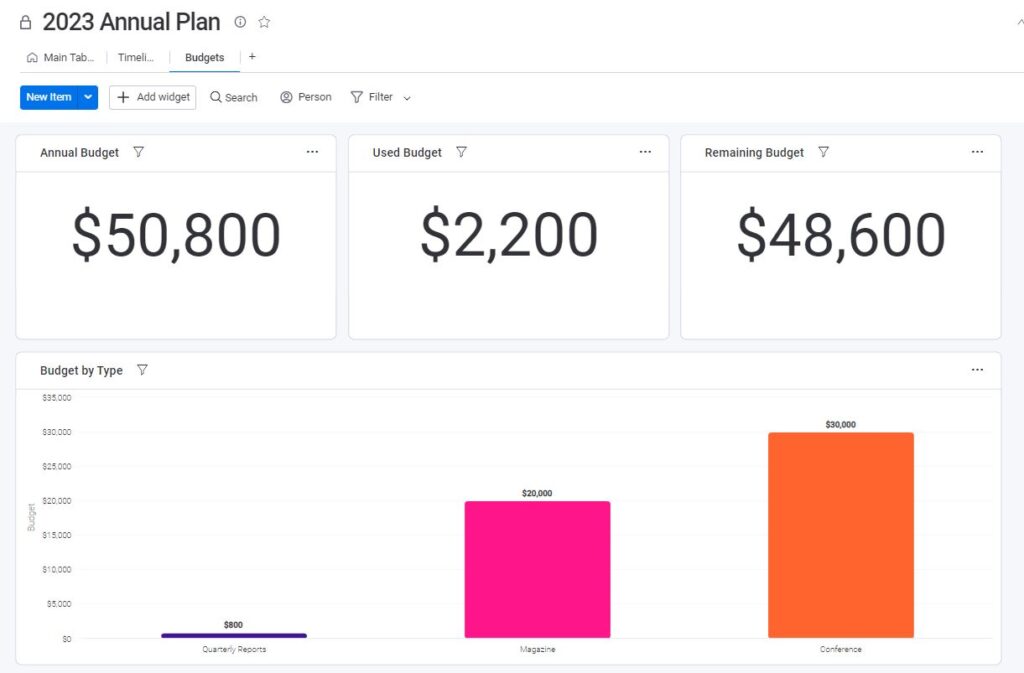 If you typically create an annual plan each year, and have similar large projects then change the annual plan board to become a template board. Once this is a template board, you can use it every year to make planning even easier.
Good luck!