If you are using subitems in your monday.com boards, then at certain times, you will want to see the a summary of those items on the parent item level. At times this could be a summary of time on tasks, numbers or statuses. This gives you an easy view of what you want to track without having to open up all of the subitems to see this information.
I have seen this be useful for a number of different kind of use cases. One use case would be if you listed all of your expenses related to a certain task in a subitem. You then can have a summary of all of your expenses in the parent item. A second use case that I find is very common is for time tracking. You can track time on the subitem level and then roll up the information to the main parent item. Lastly, this is great for tracking the status of all of the subitems. This roll up will allow you to easily see the overall status of all of the subitem tasks.
Below are instructions on how to roll up the information from a subitem to the parent item level.
Click on the 3 tops which are located on the right side of the column that you want to roll up. Make sure that you are looking at a subitem column.
Click on the settings option. It also has a gear icon. A dropdown will appear once you have clicked on this option.
Click on the option that says show summary on parent, and magically a new column will appear on the item level of your board. This new column is similar to a mirror column and it will pull in a summary of the subitem column. Obviously if you need to see a number of summaries of your subitems, you can just repeat the above steps for whichever columns this is relevant for. If you only want to these columns on certain views, then you can always hide these columns for a specific view.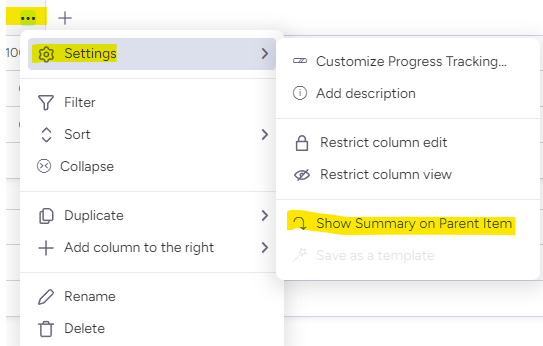 I hope this simple trick helps you more easily track your subitems in your main view without having to open each subitem. What kind of subitem columns do you like to show the summary of on the parent item?