Wondering how to take the stress out of getting your business
ISO 9001 certified
? We'll discuss a solution to complete the process easily. It's all thanks to a project management software called
monday.com
. With its flexible tools and customizable workflows, businesses have found the platform transforms an otherwise tedious documentation nightmare into a straightforward project you can actually enjoy. Find out exactly how it works its magic and gets organizations certified with far less hassle.
The Significance of ISO 9001
The ISO 9000 standards include a set of five quality management systems (QMS). They provide guidelines that help companies make sure their products and services are satisfactory.
The ISO 9001 is the main one businesses go for. They must fulfill its requirements to meet the QMS standards. The ISO organization put these standards together so that companies everywhere would be on the same page about quality. 
No matter what industry you're in or where you operate, getting certified to ISO 9001 means your quality management system has met certain key requirements, like having clear objectives for quality, making processes more straightforward, documenting important stuff, and ensuring management is actively overseeing quality.
It's all about continuously improving and focusing on the customers as a priority. And getting the ISO 9001 certification shows that your business is serious about quality!
What Are the Challenges of ISO 9001 Implementation?
So getting certified is no walk in the park. Anybody who's been through the process will tell you that it requires some serious work. The challenges you're likely to face are:
Complex Documentation and Management Requirements
The extensive documentation requirements can feel downright overwhelming. 
You must have paperwork ready for everything from how customer orders are handled to how non-conforming products are managed. It's a ton of files to keep in order.
Handling the Resource Intensive Process
ISO 9001 isn't something you can prepare overnight. Dedicated people need to take on roles like internal auditor and management rep. And somebody has to oversee everything to ensure the process runs smoothly. 
That takes a lot of man hours. Haven't we all heard stories of companies struggling for months just to check all the boxes?
Achieving Transparency and Collaboration
Collaboration is also a challenge. It can be difficult keeping all departments on the same page throughout the implementation. 
Then once certified, management has to continue demonstrating their commitment to the standard. Transparency is key for the auditors but hard to achieve across teams spread out in different offices.
It's not unusual for business owners to feel completely worn out by the whole experience. But monday.com makes the process quite simpler.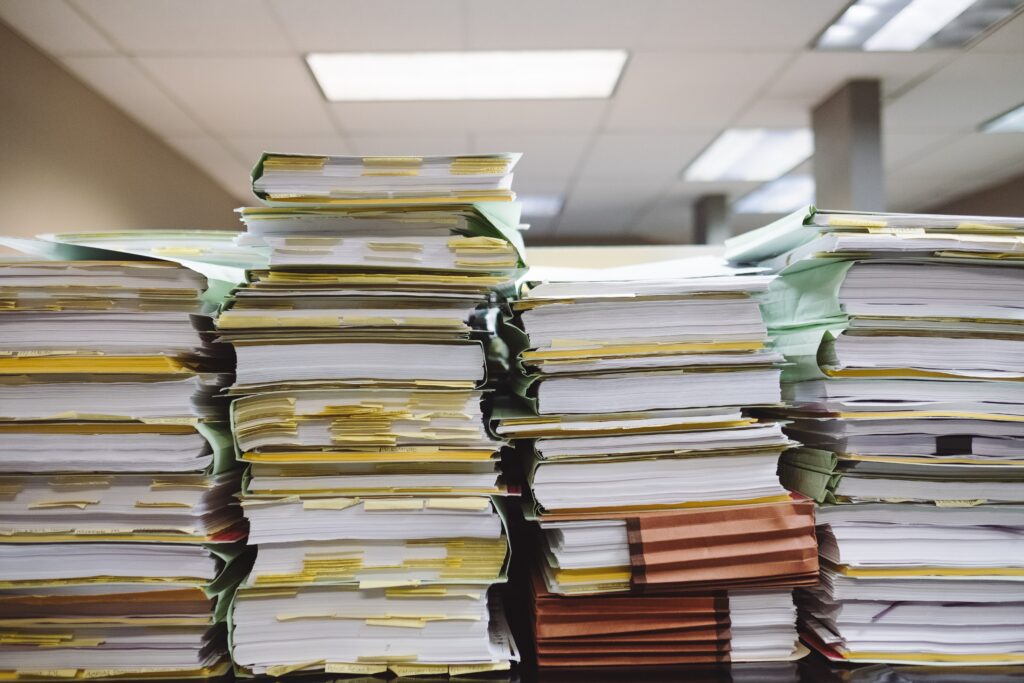 How monday.com Streamlines ISO 9001
Alright, now we're gonna dive into how monday.com can seriously streamline your ISO 9001 implementation. 
1. Customizable Templates and Workflows
Simpleday, a monday.com partner, offers templates for all your standard ISO 9001 docs like procedures, work instructions, and more. They are a lifesaver. You can just fill up your company specifics without drafting the documents from scratch. 
Plus, everything is interactive and customizable. Your quality manual has a section that doesn't quite fit? You can just tweak it. 
Or maybe you come up with a better way to manage your document control process. With monday.com's flexible workflows, it's no problem to change things up. Feeling stuck? Tap into Simpleday's resources to get unstuck. There's plenty of articles and educational materials to streamline your workflow and optimize productivity. 
2. Centralized Platform
The platform brings all your ISO 9001 components under one digital roof. No more chasing paper trails or playing email tag between departments. 
On monday.com everything is transparent and in one organized place, from complaint management to internal audits. Folks can see responsibilities, due dates, and action items, which makes overseeing everything a breeze.
Best of all, you don't need to be a tech genius to use it. Their lightweight interface is super intuitive. You'll get a clear idea about the features after fiddling around for a while.
3. Automations and Dashboards for Better Monitoring
Once you've got your ISO 9001 system set up in monday.com, their automation features and dashboards really come in handy for keeping tabs on stuff. 
For example, you may need to remind your team members that an internal audit is approaching. Just set up an auto-reminder and they will receive time notifications without any further intervention from you. 
And monday.com's customizable dashboards are excellent for monitoring performance. Want to see a breakdown of finished mandatory and/or non mandatory documents by department? Their graphs and charts pull that data together in a snap. 
The best thing is that updates are automatic, so the dashboard will show you the most recent changes. No more scrambling for reports at audit time.
4. Syncing Across Multiple Departments
There is an awesome integration option for collaboration between teams. 
Maybe quality belongs to manufacturing but you need design's input on a corrective action. With monday.com's integrations, they can comment and participate from anywhere, no sending emails back and forth. 
You've also got visibility into each other's work without leaving the platform. It truly takes your ISO 9001 system to the next level for transparency.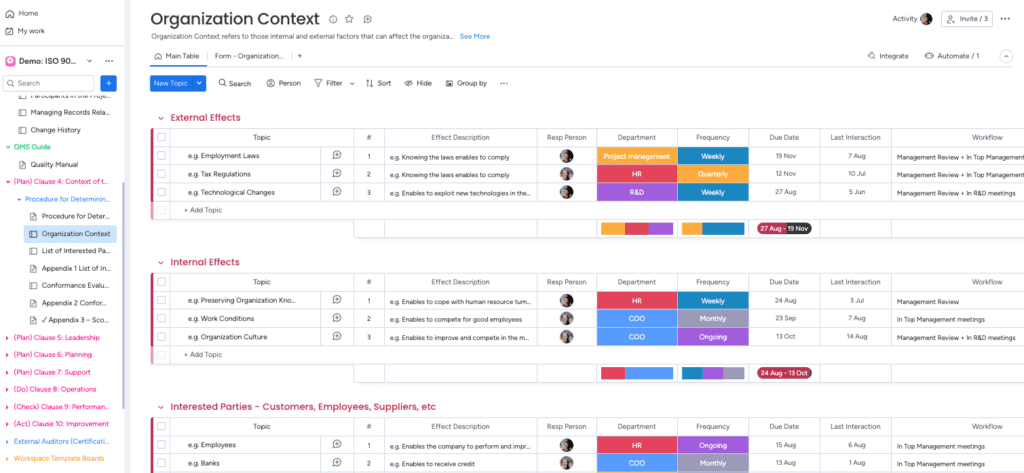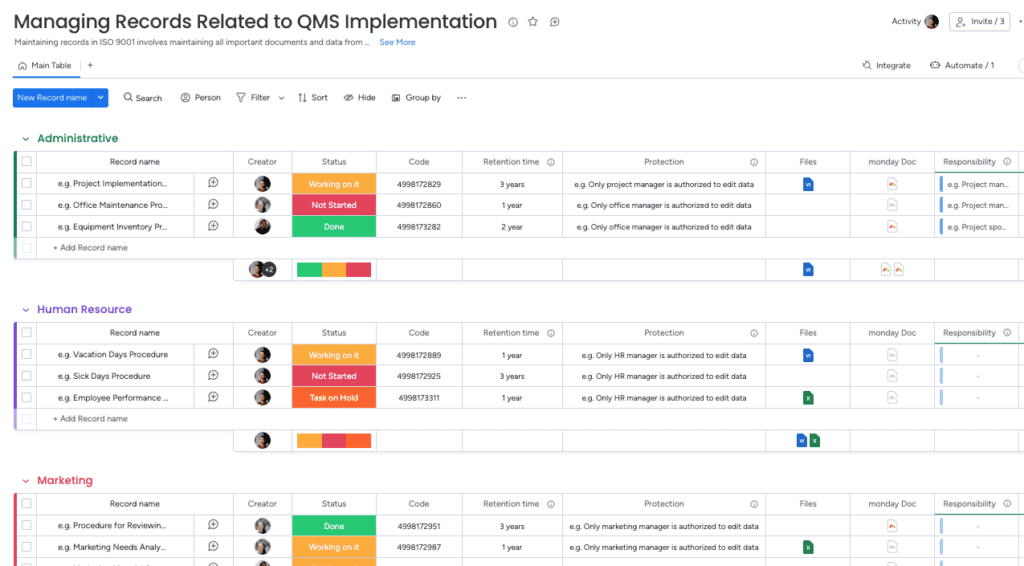 Features that Empower ISO 9001 Implementation
By now you've got the gist that monday.com is a total game changer for ISO 9001. But which features really make it sing? Here are a few standouts.
Implementation Features
Integrations: Being able to pull data from your other work apps straight into monday.com is huge. No more re-entering info from your CRM or inventory system. Everything's in sync.
Automations: Forget tedious manual tasks like generating monthly reports. Set up autopilots to handle routine processes so your team can focus on more important things.
Dashboards: Want to track each department's workload trends over time? Their customizable dashboards put real-time metrics at your fingertips with interactive charts and graphs.
Gantt Views: Perfect for visualizing project timelines like management reviews or internal audit schedules. Easy to update and everyone stays on the same page.
Workflow Builder: Need a better way to map your document approval flow? This feature lets you design custom, intuitive workflows visually, no coding required.

Examples of Implementation
Suppose you want to automate your clients' feedback monitoring. Tracking customer feedback is a huge part of any quality system. But doing it manually? No thanks! With monday.com automations, gathering feedback is a total breeze.
Say every time an order ships, you want clients to rate their experience. Instead of sending boring emails, you can set up a workflow that triggers automatically. When an order status changes to "delivered," it shoots the client a simple survey right from monday.com.
All the provided responses feed right into customizable dashboard reports. No more sifting through a million spreadsheets. In two clicks, your sales team gets a snapshot of customer satisfaction trends.
It gets better too. Through integrations, you can link feedback to particular products or reps. Instantly flag any issues that may need addressing. Best of all, it's a two-way street. Automatically flag positive comments to customer service, so they can follow up with thank you notes.
Little touches like that work wonders for relationships long-term. With monday.com keeping tabs behind the scenes, your quality efforts can really shine through effortlessly.
Simpleday's ISO 9001 CompliancePro Service for Your ISO Journey
Tackling ISO 9001 alone can feel overwhelming, but thank goodness for Simpleday's CompliancePro service! We've
teamed up with monday.com
to offer a pre-built ISO 9001 management solution that takes the heavy lifting out of setup. With CompliancePro, you'll get everything you need for certification. Everything from quality manuals to procedures and forms are built out and ready to roll. We tailor-make everything to your business specifics. Our experts will help overboard your staff and show them the ropes through interactive training. Got new processes to map? Unique documentation needs? We'll customize monday.com platform to your evolving compliance needs too. We make ISO compliance a total breeze. You've got worry-free expertise and a total turnkey solution, all without busting your budget or stretching your resources thin.
Request a demo
to see for yourself!