ISO 9001 stands for the gold standards for quality management. It can be a game-changer for your organization. We'll explore ISO 9001's importance, challenges, who should get certified, and how cutting-edge tools like Simpleday's monday.com-powered ISO 9001 CompliancePro can simplify the process.
Join us to unlock the benefits of ISO 9001 quality management system and achieve operational excellence.
What Is ISO 9001?
ISO 9001 is your company's roadmap to quality excellence. It ensures your products and services consistently meet customer expectations. At its core, ISO 9001 helps with creating a structured approach to managing processes, risks, and opportunities within your organization. It provides a common language and framework for organizations of all sizes and industries to meet the criteria for a quality management. So, what exactly does ISO 9001 encompass? It's a
comprehensive set of principles and requirements that help you establish, implement, and manage an effective quality management system (QMS)
. Through this QMS, you will deliver consistent quality and meet customer and regulatory requirements. It keeps a company on course and guides towards operational excellence.
The Importance of ISO 9001 Quality Management System (QMS)
Running an organization without ISO 9001 can lead to inefficiency, customer dissatisfaction, and missed opportunities for improvement. The system helps organizations enhance customer satisfaction, reduce costs, mitigate risks, and foster a culture of continuous improvement. By aligning your operations with ISO 9001, you're not only meeting the demands of your customers but also positioning your organization as a trusted industry leader. Let's break down the importance of ISO 9001:
ISO 9001 provides a clear framework for resource optimization. You'll eliminate unnecessary resource consumption, making your organization more efficient and cutting the cost.
The QMS system helps you understand and prioritize your customer's needs. When you strive to meet these needs, you foster stronger relationships and trust, leading to loyal brand advocates and improved overall customer satisfaction.
In today's competitive market, ISO 9001 certification serves as a badge of honor. It symbolizes your commitment to quality and instills confidence in your stakeholders. An ISO 9001-certified company means it's different from the competition, which attracts more clients and positions your company as a trusted industry leader.
INT
ERESTING FACT:
Did you know that 85% of ISO 9001-certified companies experienced better sales and boosted market share?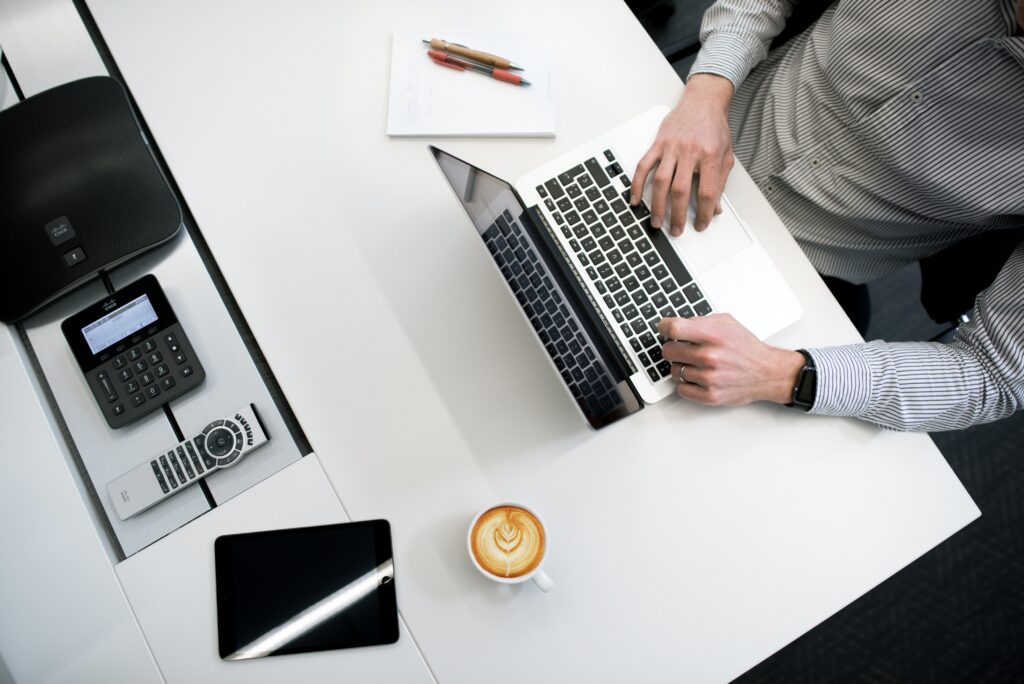 Which Companies Should Get ISO 9001?

ISO 9001 certification isn't exclusive to a particular industry or organization size. However, certain industries tend to see exponentially higher returns from pursuing ISO compliance due to their unique business needs and requirements for a quality management.
Construction and Engineering Firms
For construction and engineering companies, ISO certification fosters a culture of safety, quality and continuous improvement. 
It helps standardize processes, reduce defects and ensure projects are delivered on time and on budget. The clients will get confidence in service quality.
In the healthcare sector, ISO helps facilitate compliance with a strict quality system for regulations and safety protocols. It systematically improves treatment quality, clinical outcomes and provides robust documentation of care standards. 
Implementing the system will reduce legal and reputational risks for healthcare facilities.
Manufacturers struggle with defects, waste and inefficiency. ISO certification helps identify flaws and bottlenecks. It assists in developing robust quality assurance systems for consistent, defect-free production. As a result, the company can reduce costs while improving customer satisfaction.
Other Benefitting Sectors
Other sectors like IT, hospitality, education, electronics, and food processing also see significant competitive advantages from adopting globally accepted quality control standards and best practices as mandated by ISO.

Challenges of ISO 9001 Certification Implementation
While the benefits of ISO 9001 are undeniable, the road to certification can be daunting. Meeting the requirements of ISO demands a significant investment of time, effort, and resources.  
It requires commitment from top management and can sometimes create rigid systems that stifle creativity. Resistance from suppliers and the ever-evolving regulatory landscape can also pose challenges.
Common challenges you might encounter include:
Resource allocation. Implementing ISO 9001 requires resources, both in terms of time and finances. It's an investment in your organization's future, but it can be a hurdle to overcome.
Resistance to change. Change isn't always embraced with open arms. Your team may resist new processes and procedures initially, which can slow down the implementation.
Supplier engagement. Getting your suppliers on board with ISO 9001 can be challenging. They may not immediately see the value or benefit of compliance.
Regulatory complexity. Navigating the maze of regulatory requirements can be like sailing through treacherous waters. The rules and expectations are ever-changing.

 
These challenges are just a part of the journey. With the right guidance and tools, you can overcome them and set sail toward certification success. And speaking of tools, one such tool that can make your ISO 9001 journey smoother is ISO 9001 CompliancePro.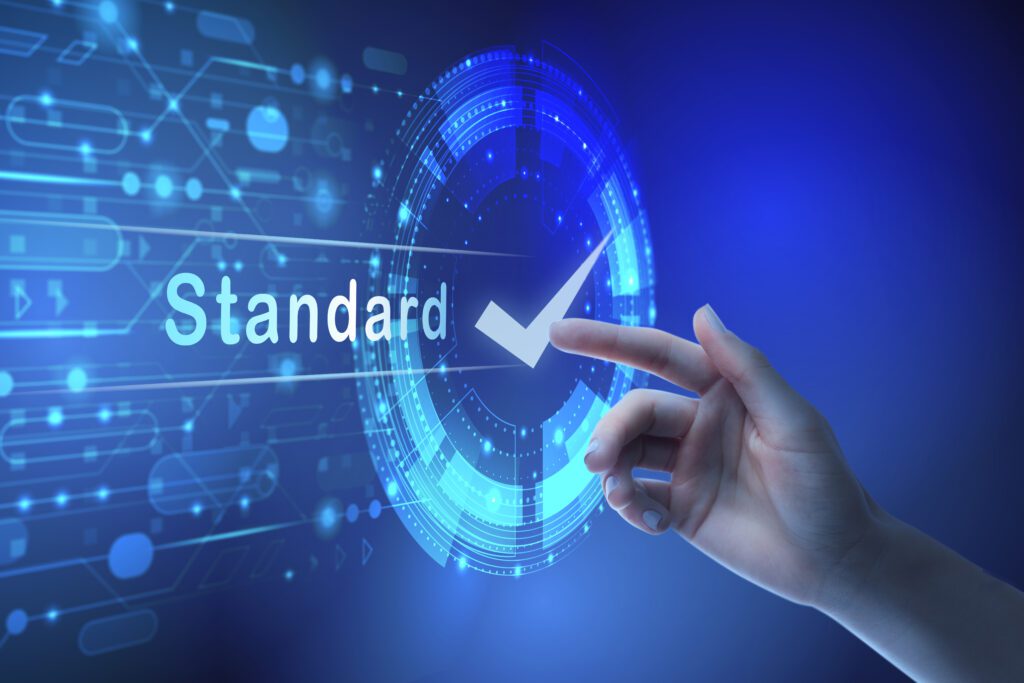 Empowering ISO 9001 with monday.com
In your quest for ISO 9001 certification, you need more than just a compass—you need a versatile navigation system. That's where monday.com comes in. Monday.com is a project management software that allows you to create customized applications and project management solutions. It's designed to make your life easier, your tasks more manageable, and your goals achievable. The platform lets you create tailored solutions that fit your organization like a glove. It streamlines your processes, making tasks more efficient. And ISO 9001 isn't a solo journey; it's a team effort. So, monday.com enables multi-departmental collaboration, ensuring everyone is on the same page and heading in the right direction. You will also get metric reporting dashboards that help you monitor performance and make informed decisions.ž
Revolutionizing ISO 9001 Compliance with ISO 9001 CompliancePro
The 
ISO 9001 CompliancePro
 is a Simpleday product. It's a tailor-made solution that combines the power of monday.com with ISO template documents from Advisera, a renowned ISO consulting company. The dynamic combination simplifies the ISO 9001 certification process, making it efficient and hassle-free. Subscribing to the service brings all the key parts of the ISO 9001 standard right at your fingertips. Things like document templates for your quality manual, procedures, and more. There are also boards to track your internal audits, corrective actions, and other requirements.
Unlocking the Benefits of ISO 9001 CompliancePro
ISO 9001 CompliancePro enhances operational efficiency by providing a clear framework for resource optimization. It also prioritizes customer requirements, fosters trust, and improves overall satisfaction. 
Let's dive deeper into the benefits:
Better Operational Efficiency
The workflow really streamlines your certification process. Having all your documents, checklists, and audit schedules in one place means you stay organized and save time. The process will cut your paperwork workload in half!
The built-in templates take the guesswork out of creating procedures, manuals, and other required docs. Just fill them up with your company's information and you're oe step closer to get that compliance certificate. Don't ever go through that dreadful process of document organization. 
The dashboard gives leadership a real-time view into your quality management progress. Easy to spot issues and see who may need extra help meeting deadlines. All the analytics help with making better business decisions.
Teams can collaborate seamlessly on tasks, docs and audits. Comments and mentions keep everyone on the same page. The entire process strengthens communication between far-flung offices. Remote employees feel more included in the certification process too.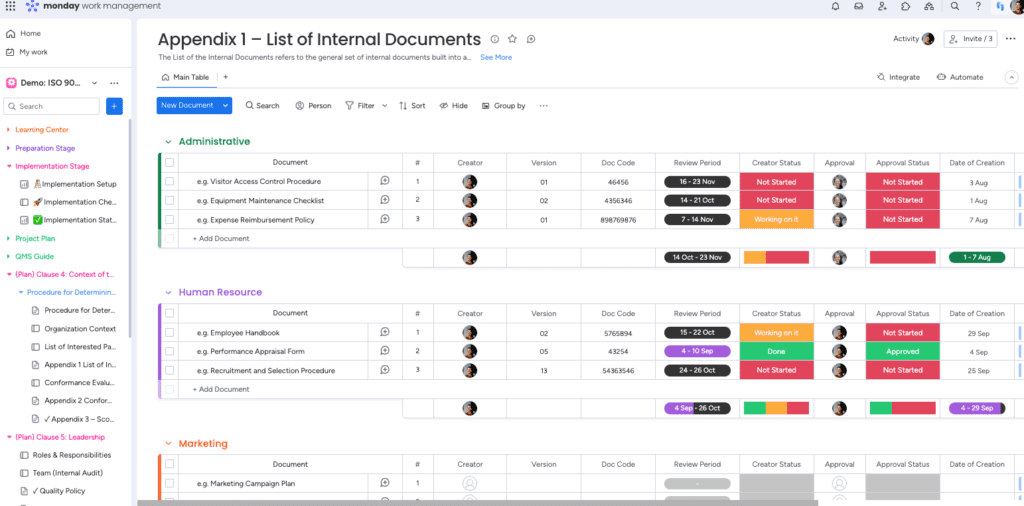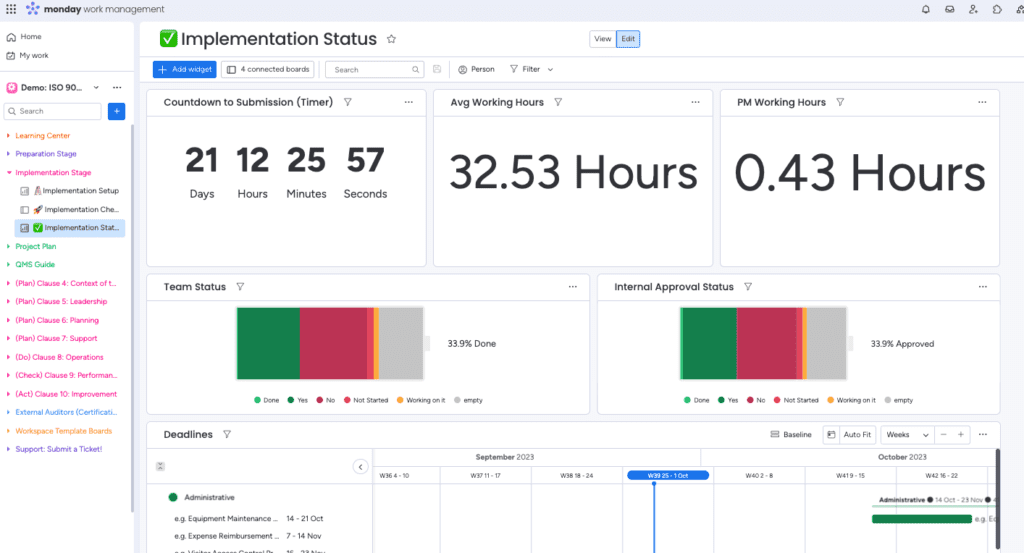 The ISO 9001 CompliancePro Package Features
Simpleday's CompliancePro makes it easy to manage your ISO 9001 system right in monday.com. We offer TWO PACKAGES to suit all needs.
1. The Basic Solution 
The package gives you everything you need to get started. You'll receive their fully-built ISO solution template along with instructional videos. CompliancePro experts will then integrate the templates into your monday.com account. This includes things like boards, checklists, and documentation.
To help you get acquainted, you'll also get an initial training session online. After that, their specialists are available each month if you have any other questions. You'll also receive regular email support to ensure everything stays on track.
Fully-built monday.com ISO solution

ISO 9001 template documents

 Instructional ISO 9001 video

 Basic account integration of solution

 Initial training session 

 Monthly consultation 

 Regular email support

 
2. Complete Solution
Maybe your company is unique and needs a more tailored approach? Simpleday's Complete Solution package is what you need.  In addition to all the Basic features, this provides a more customized setup tailored exactly to your business needs. The training session is extended for more in-depth guidance too.
Monthly consultations are longer, so our experts can address any specific issues. And premium email support means faster responses when you have time-sensitive questions. No matter the size of your operation, we help take the hassle out of ISO compliance so you can focus on running your business.
Fully-built monday.com ISO solution

ISO 9001 template documents

Instructional ISO 9001 video

Customized account integration of ISO solution

Extended training session

Extended monthly consultation 

Premium email support

 
How ISO 9001 CompliancePro Helps with the ISO Implementation
Getting ISO 9001 certification can seem like a daunting task, but Simpleday is here to help you throughout the way. Our team will start by checking in on where your company is at in the process. Are you just getting started or nearing the final stages? We'll also get to know who's on your implementation team so they can cater their support appropriately. Once we understand your situation, we recommend you booking a free consultation to discuss the best path forward. In the meeting, we'll explain everything and give you practical advice tailored to your business. A big part of our 
CompliancePro
 service is using intuitive project management tools on monday.com. The platform allows your team and our advisors to collaborate seamlessly. Documents, tasks and schedules are all in one place for easy reference. Plus, automated reminders help keep complex projects like ISO on track. With our guidance and technology support, your team won't feel alone in the certification journey. We're here to answer questions, provide training, and offer troubleshooting along the way.