When you are using monday.com, you may want to keep tabs on what's happening in your account. Luckily, it's easy to view activity either on the board-level or on an individual item-level.
With the help of these features, you'll have the full scoop on who's doing what and when.
Tracking Activity on a Board Level
Let's say you have a board called "Tara Task Board" that you and your team use to manage tasks for a current project. To see everything that's going on there, simply open up that board and click the "Activity" button in the top right corner.

This will pop open the activity feed, which is basically like a transcript of all recent actions taken on that board. For example, you'll see when someone changes a task from "Not Started" to "In Progress," updates a due date, adds a comment, or makes any other tweaks.
And you can use the filters to narrow things down even further. Just click "Today" to only see what's happened in the last 24 hours. Or, filter by a specific person if you want to check what they've been up to.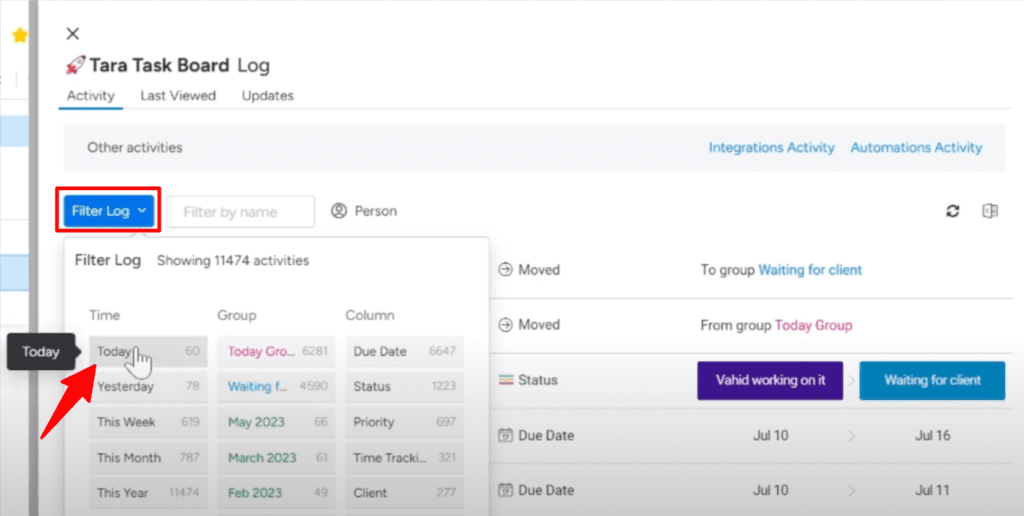 You can also check the integrations and automation activity to see what integrations or automations have been added to the board.
Tracking Activity on a Specific Item Level
Say you've got an item called "LinkedIn post." You probably want to know exactly when that task gets moved along, updated, or changed, right? Just click the little conversation bubble on the right side of that item.
This opens up an activity log unique to only that item. You'll see every update made to that item, like when the due date changed, it moved to "In Review," someone added a comment, etc.
The best part is that you can see who made each of those changes too. So it's easy to keep tabs on who's on top of their items and who might need a friendly reminder.

Conclusion
Having these detailed activity logs makes it a breeze to track progress and keep your team accountable. The board view shows all updates across everything in that board, while the item view highlights changes to just that one task or project.
And if you want to see how monday.com can transform the way your team gets things done, sign up for a free 60-minute workflow consultation. Our experts can show you the way for a smooth setup.